How to Squeeze in a Few Extra Holes at Bandon Dunes
How many holes one can fit in on a trip to Bandon Dunes Golf Resort is more than just a question. It can be a guiding principle for most anyone charged with planning a trip here to the Southern Oregon Coast.
The answer depends on the group of golfers, of course — even Bandonistas have their limits. And so much depends on variables, like whether a guest is visiting from near enough to drive or is flying into the airports that typically help serve Bandon, including Southwest Oregon Regional Airport, Eugene, and Portland International.
On the day of arrival, it can be hard to know just how early one should schedule a tee time, and it can be even more challenging to know just how many holes you can squeeze in and still not miss the flight home.
One thing is certain: From the property's shuttle service to the placement of restaurants at every golf course, everything about Bandon Dunes Golf Resort was designed to keep Bandonistas on course as much as they please. And Bandon Dunes' Guest Services Department staff can help, offering valuable services that even veteran Bandonistas might not know about.
"Our main objective is to get golfers off their shuttle or out of the car and onto the golf course as quickly as possible," says Mark Bergmann, our longtime director of Guest Services.
Here are many of the ways that Bandon Dunes can you help you save time and squeeze in a few extra holes on the day you arrive and/or the day you leave:
Guest services are everywhere for a reason
It is not at all uncommon for a Bandonista to cut it so close that they arrive just minutes before their tee time. For this reason, and others, a Guest Services agent is always on hand at the clubhouses at all four championship courses, including the main station just off the parking lot at The Lodge. (That's where you'll likely meet Shoe, who is about as helpful to golfers as a fluffy lie.)
If you're arriving via shuttle with all your luggage in tow, simply offload it to the Guest Services agent at the course and your bags will be waiting for you after your round at the main Guest Services station.
Guest services can help you save some weight
If you're the type of golfer who carries everything in your golf bag, no need to lug all of it during your first round. Guest services will help you lighten the load by storing your excess equipment securely until your round is complete.
Fear not, caddies are here to help, too
A caddie supervisor is stationed on the first tee of all four golf courses, and your caddie will be waiting for you at the first tee 20 minutes before your tee time. If you need to offload some equipment, your caddie or the caddie supervisor can help, too.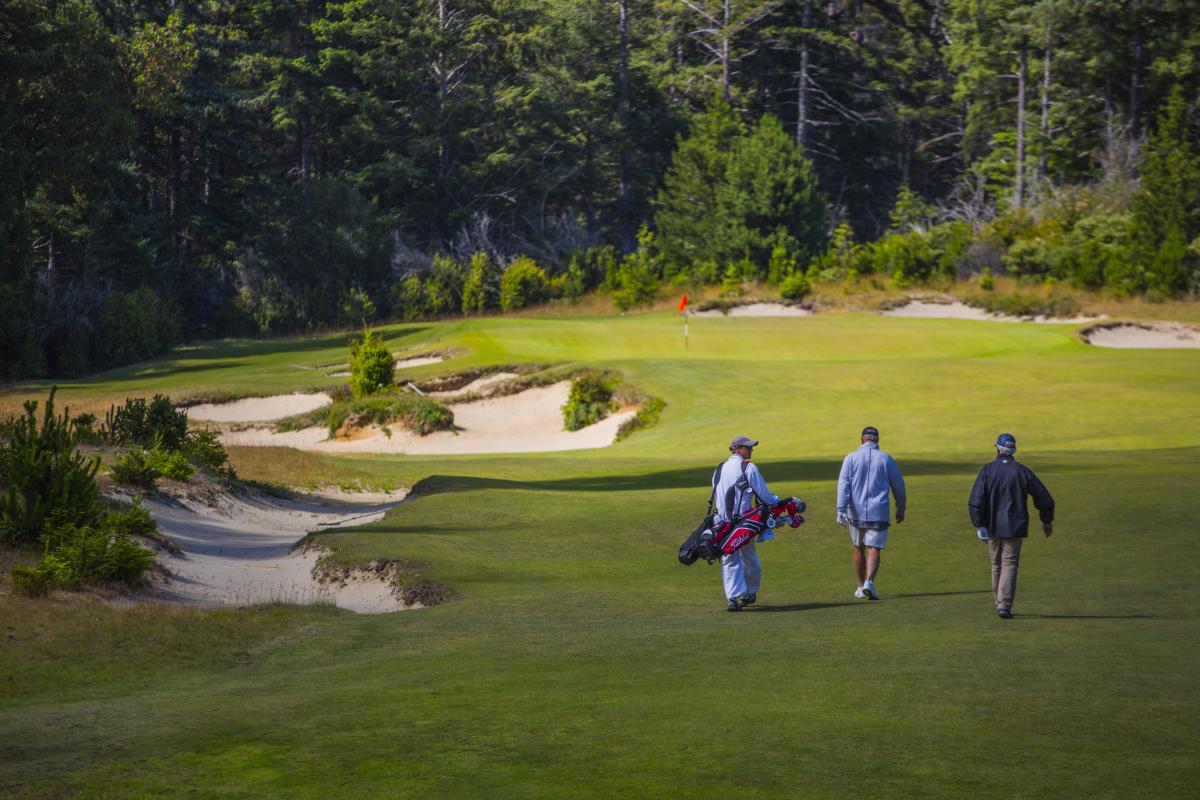 A quick bite is never hard to find
Debating whether there is enough time for a meal before or after a round is unnecessary at Bandon Dunes. There are plenty of restaurants, quick bites as well as turnstands on each course to keep you fueled up.
Hurry up and check in … or out … or not at all
While The Lodge's front desk is the most common place to check in or out, it's not the only place. The Grove and The Inn also have check-in desks to help speed up the process. Even if it's not time yet to check in, Bandon Dunes' Manager Joe Lowry suggests pre-registering.
Pre-registering allows you to begin charging any on-property expenses to your room, including golf. And once your room is available, Guest Services will place your bags into the room so they're ready when you complete your round.
Golfers can also keep their accounts open after check-out time while they finish their final round. Make a quick stop at one of the hotel desks on your way out, or if you're out of time, head straight to the airport. With a valid email address on file, Bandon Dunes will send you a final statement.
Yes, Bandon Dunes has locker rooms
The Lodge, Grove, and Inn all have locker rooms for any guest to use, making quick changes easy even if it's before your check-in time or if you have already checked out. Each locker room has a shower, too, which the other passengers on your flight home will no doubt appreciate.
If you know you will be cutting it close, ship your clubs
Services such as Ship Sticks provide door-to-door service that is both reliable and cost-effective. It saves time and money at the airport, and your clubs will be waiting for you at Guest Services upon your arrival. When you're heading home, take your clubs right back to where you picked them up, and Bandon's staff will box them up and send them home.
Guest services will pick up your bags, too
On the day of departure, simply give Guest Services a call, leave your luggage behind, and they will come and pick it up and have it waiting for you by the end of your round. Or you can leave your bags at any of the front desks, where your luggage will be stored safely.
It's not all or nothing around here
If your tee time isn't until 10 a.m. and your shuttle is leaving at 1:30 p.m., Bandon will keep an eye out to make sure you don't miss your ride to the airport. Notify the clubhouse staff of the situation before teeing off, and the on-course rangers will keep track of your progress. The rangers will then pull you off course in time to make sure you don't miss your ride, even if you can't quite make it through 18.
"We want to make it as easy as possible and just make sure that everyone has a lasting and great impression of their trip here and take home good memories," Lowry says.
More questions?
Don't hesitate to call our reservations team at (866)311.3636!