From ShipSticks to Packing: The Right Preparation Goes A Long Way at Bandon Dunes
From using Ship Sticks to packing an extra pair of shoes, the right preparation goes a long way at Bandon Dunes.
Perched on the rugged Southern Oregon Coast, traveling to Bandon Dunes Golf Resort can feel like a spiritual adventure in itself. While it is true that Bandon Dunes is increasingly easy to travel to, the journey still fills Bandonistas with a sense of pilgrimage, which is unquestionably part of the uniqueness and allure of the Bandon Dunes experience.
With that in mind, there a few ways for a golfer to prepare before heading to Bandon that will make your trip seamless. Here are some of our best tips for those ready to venture to Bandon Dunes:
Plenty of options to get to Bandon Dunes
Oregonians are a lucky group. Not only do they get to live in a state with jaw-dropping beauty at nearly every turn, but the vast majority of us also live less than a five-hour drive from Bandon Dunes. For those who don't live on the West Coast, traveling to Bandon can be a bit more involved but definitely not as challenging as it was in the earliest days of the resort.
From June 11 through Oct. 4, United Airlines will offer twice-a-week nonstop service between Denver and the Southwest Oregon Regional Airport (OTH), just 30 minutes north of Bandon Dunes in North Bend. In addition, United Express provides daily service from San Francisco in the summer months. That puts Bandon Dunes just one layover and a short shuttle ride away from the vast majority of North American cities and beyond.
Oregon also offers some nice alternatives a bit farther away: Eugene Airport (EUG) is a 2.5-hour drive, Medford Airport (MFR) is a three-hour trip, and Oregon's largest airport, Portland International (PDX), is a tap-in at just over four hours away.
The most convenient way to get your clubs to Bandon Dunes
Dragging a set of golf clubs through the airport can be … well … a drag. And every golfer worries that their prized tools for Bandon Dunes might be a casualty of the trip, which is precisely why Ship Sticks has become the method of choice for travel-savvy Bandonistas.
Ship Sticks provides door-to-door service that is both reliable and cost-effective. It saves time and money at the airport, and your clubs will be waiting for you at Bandon Dunes' Guest Services Department upon your arrival. When you're heading home, take your clubs right back to where you picked them up, and our staff will help finalize their safe trip home.
Think of ShipSticks as a caddie for the transportation of your clubs.
Prepare your golf bag for links golf
Playing the fescues of Bandon Dunes for the first time is an altogether unfamiliar experience for many American golfers. Prepare your golf bag accordingly.
Consider leaving the high-bounce wedges, which can be difficult to hit on Bandon Dunes' tight lies, at home. Instead, prepare for the ground game with clubs you feel most comfortable hitting bump-and-run shots. Drivers with lower lofts can also help you hit shots that slice through the wind and roll out on the firm, fast fairways.
Pack the right clothes
The old saying goes that there is no such thing as bad weather, only bad gear. A trip to Bandon Dunes requires you to be prepared for the ever-shifting coastal weather, a crucial element that creates a truly authentic links golf experience.
Pack layers, including a base and mid-layer, as well as long pants (but don't be afraid to throw your golf shorts in, too). Prepare for rain with waterproof golf pants, rain golf gloves, and a rain jacket. Also, keep a windproof shell at your disposal just in case the wind kicks up. You might not need any of it on your trip, but as any Boy Scout will tell you, it's always best to be prepared.
What about the shoes?
As you no doubt know, all four championship courses and the Bandon Preserve are walking only. Pack golf shoes designed for the rigors of walking, even if it comes at the sake of high fashion.
Also, it is a good idea to pack at least two pairs of golf shoes and a few extra pairs of socks. Each room at Bandon Dunes has shoe dryers, but it is easiest to alternate shoes between rounds. For those full days where 36 or more holes is a must, you'll often hear us locals suggest changing your socks. Trust us; it is a must.
Don't forget the little things
Put some lip balm and sunblock in your bag before you leave home. Such items are easy to forget but come in handy at Bandon Dunes.
Fear not, though. Bandon Dunes' various retail outlets can help replace anything you may have forgotten, ensuring that you will be fully outfitted for the golf trip of a lifetime.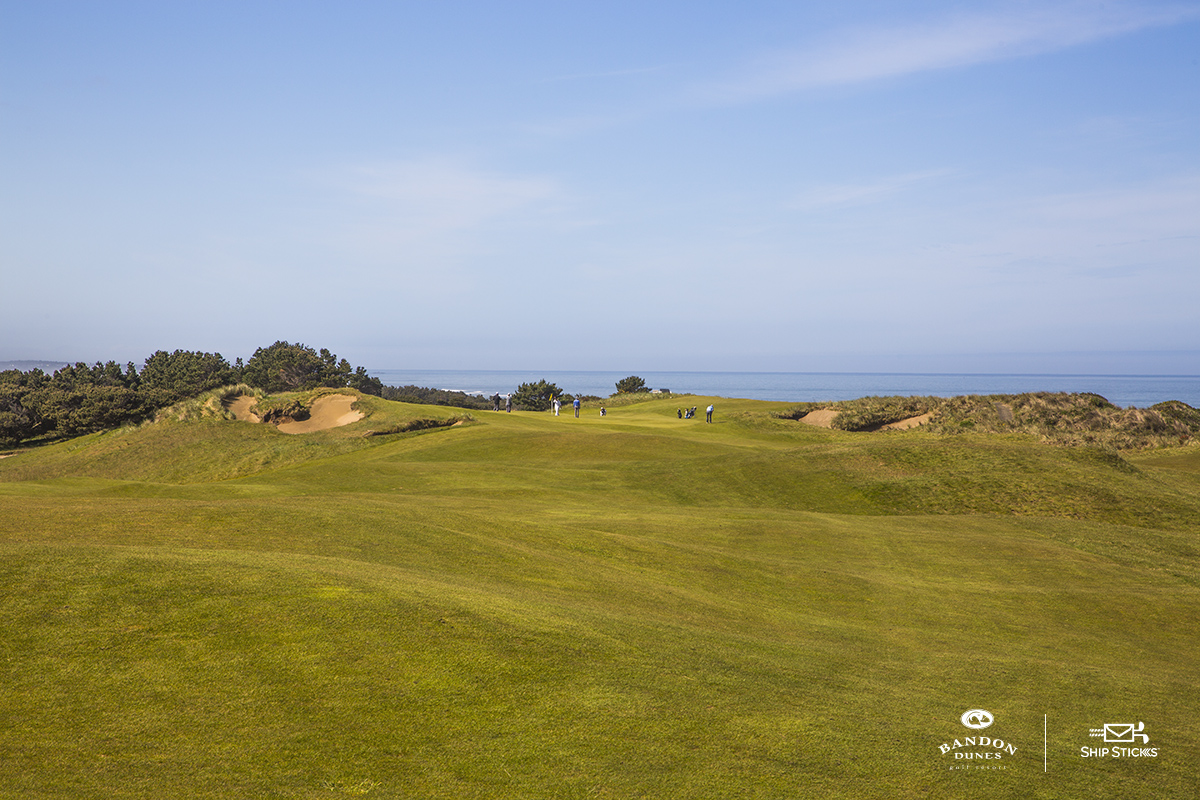 More questions about preparing?
Don't hesitate to call our reservations team at 866.311.3636!